The 2022 harvest was Vinchio Vaglio's 63rd vintage. There have been hot years and cold years, dry years and years with too much rainfall, and, fortunately, there have also been balanced vintages between the seasons.
For these reasons, however, each vintage is different and each wine tells its own story, even years later. We do not yet know what the character of the wines resulting from the 2022 harvest will be, but one thing is certain: Barbera is a wine with extraordinary longevity.
A good bottle of wine in fact does not age, but rather matures, defying time and developing its sensory characteristics even more.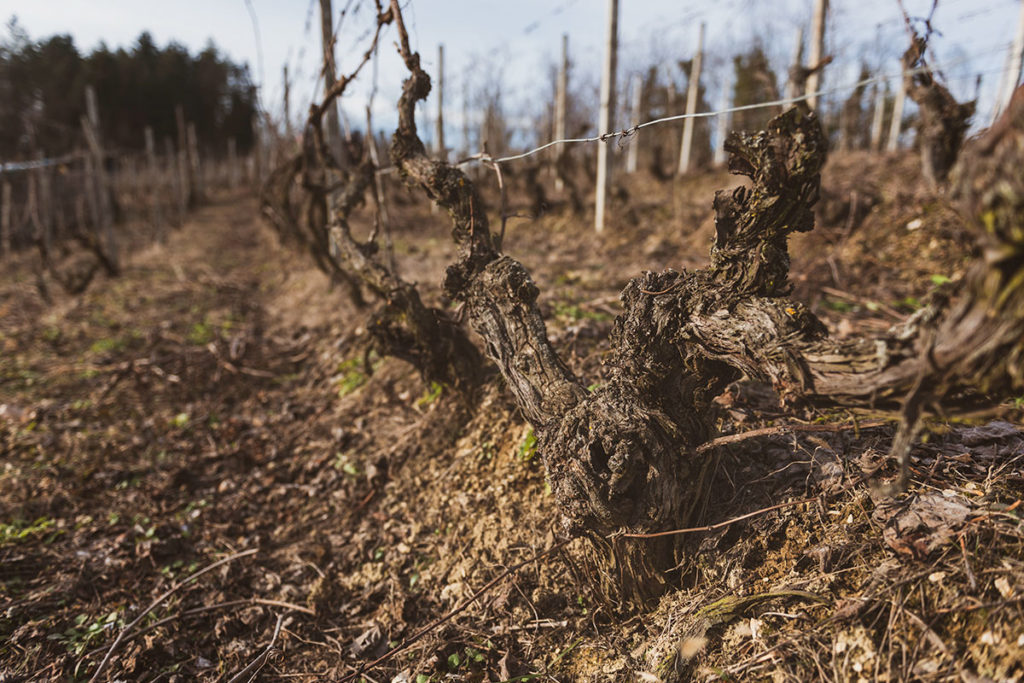 Young wine and old wine
Wine, too, is born, grows and dies. Wine bottles contain a living product, created by the symbiosis between man and nature, capable of telling a story and changing its character through the course of time.
You may be surprised to learn that the notion of 'old wine' and 'young wine' is not always related to the number of years, but rather to quality and aroma.
In the jargon, we speak of 'immature wine' when the wine has not reached its final organoleptic characteristics yet, which means that a young wine is not necessarily a wine of recent vintage.
At Vinchio Vaglio, for example, we only market wines when we are sure they are already mature and can be tasted immediately, without the need for bottle ageing in one's personal cellar. At the same time, all our wines can sit in the bottle for 3-4 years like Vigne Vecchie 50 or up to 10-15 like Sei Vigne Insynthesis, thus growing in balance and elegance.
On the other hand, you are faced with an 'old wine' when the product begins a downward phase and ends up completely lacking in character. It is a wine that will make you regret not having opened it sooner.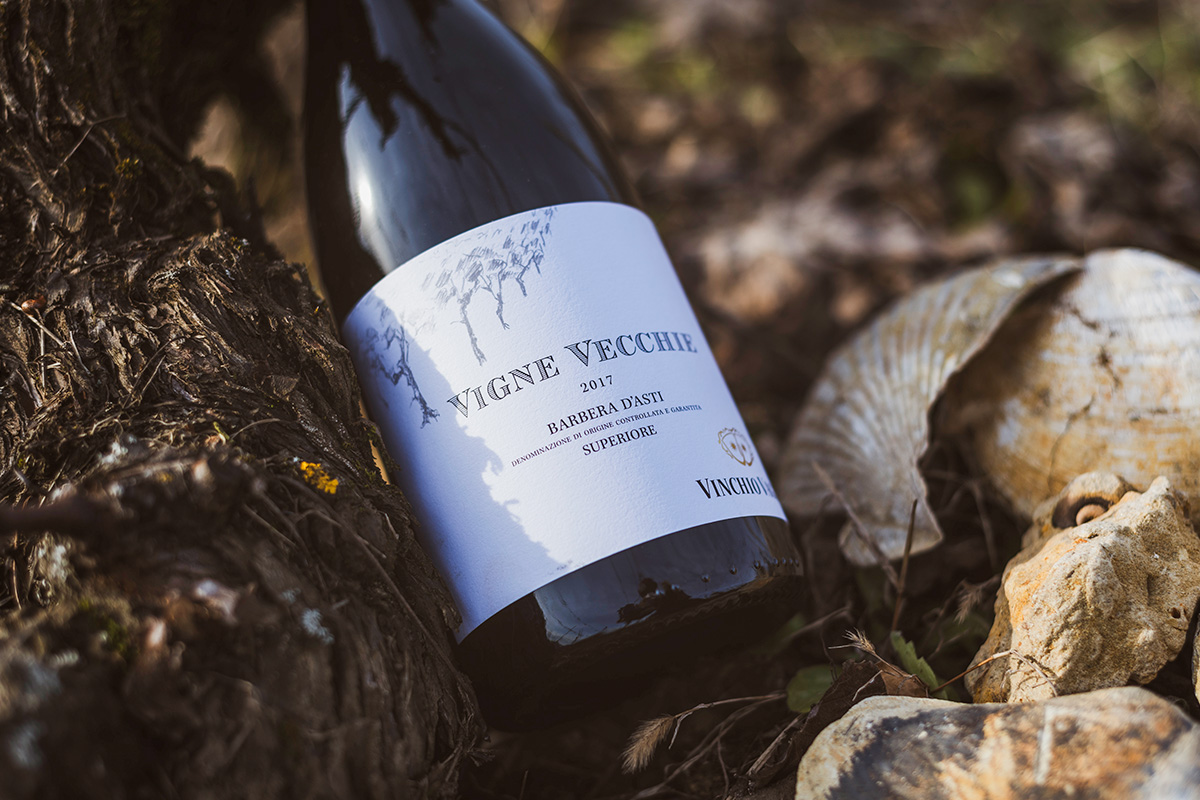 Which wines improve with age?
There are those who believe that an old wine is more valuable, but also those who claim there is nothing special hidden inside an old bottle. The truth? Time transforms the wine, which can either lose interest or gain character.
First and foremost, in order for wine to improve with the years, it is important that it is grown and aged with the intention of obtaining a final product that has structure, sufficient acidity and complexity, in short: we are talking about a great wine. And Barbera, from this point of view, holds all the cards.
Secondly, it is necessary that the wine has been left to rest in the best possible way during storage, at a constant temperature of around 14°C, with the cork in contact with the wine and in a room with very little light. Over time, thanks to the micro-oxygenation any type of cork enables, the wine acquires a silky softness and the bouquet of aromas becomes more complex both on the nose and the palate. The emotions aroused by a vintage Barbera are indescribable, it is like finding yourself in front of an old friend, eager to tell you about all about their journey.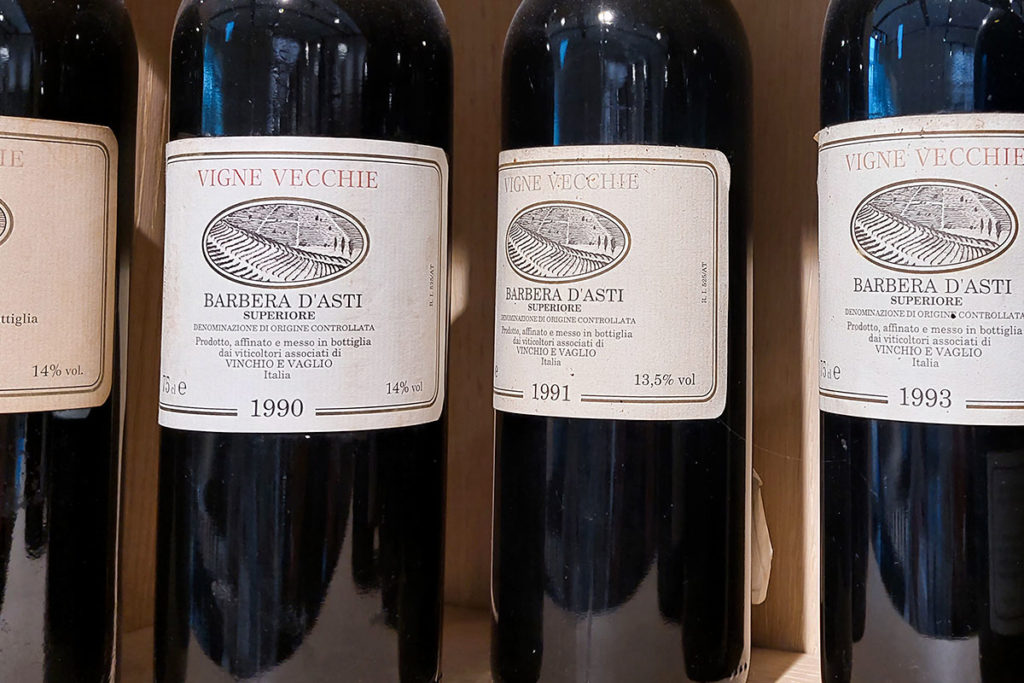 Pollenzo Wine Bank
The need to express the great wealth of territories, soils and indigenous vines from all over Italy led the Slow Food Association to create the Pollenzo Wine Bank, which holds a priceless wine heritage and one of the largest collections in the world.
It is here, in fact, that some of our wines are also kept, among the vaults of the ancient cellars.
The opinion of Tessa Donnadieu, export manager of Vinchio Vaglio
Sei Vigne Insynthesis Barbera d'Asti Superiore DOCG is a structured, intense and compact Barbera that shows all its potential over time, it is the ageing wine par excellence; at the Pollenzo Wine Bank we were recently able to taste the following vintages:
2006 Vintage: extraordinarily vivid and intense colour, obviously with a slightly brick-coloured rim. On the nose one perceives the ripe fruit notes typical of Barbera, with spicy aromas due to the ageing in wood. It has great complexity confirmed by the concentrated, soft and enveloping mouthfeel, a wine that remains taut and good to drink thanks to the characteristic acidity of this grape variety. A wine that is still very fresh and pleasant despite its years.
2004 Vintage: the colour is much darker and tends towards the classic nuances of aged wines with orange reflections. On the nose we immediately notice a difference from the previous wine: this Barbera has developed spicier aromas tending towards notes of leather, tobacco and cedar. The evolution is also very interesting in the mouth, which is still fresh but with very persuasive tannins and confirms the olfactory sensations.
2003 Vintage: this is the vintage that surprised us most, as it was exceptionally hot. To the eye it has a brick red colour, to the nose it is a great concentrate with floral notes on the nose (violet and rose) and ripe dark fruits related to spices such as liquorice. In the mouth, the great structure is confirmed with smooth tannins and many aromas on the nose. A superlative and classy Barbera.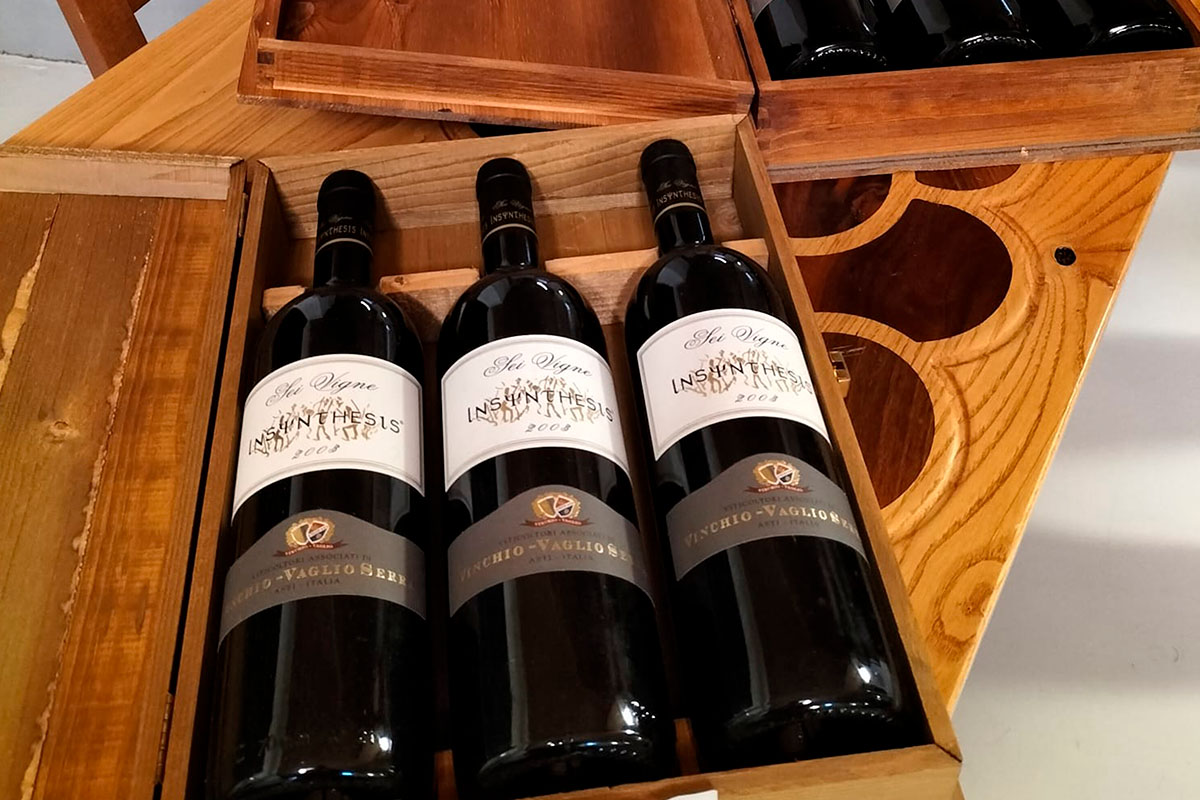 Some of the Barberas from our best vintages
During the Life of Wine event held on October 23rd, we had the pleasure of presenting the evolution of some of our best Barberas:
Vigne Vecchie Barbera d'Asti Superiore Docg 2000, 2006 and 2017
Sei Vigne Insynthesis Barbera d'Asti Superiore Docg 2004, 2006 and 2016
Vigne Vecchie 50° Barbera d'Asti Docg 2020
Laudana Nizza Docg 2019
A journey through time to taste the outstanding longevity of this vine, which has surprised everyone who has tasted our wines. The audience made of press, trade and wine enthusiasts was surprised by this characteristic of Barbera few people know about and thanked our winery for the opportunity they were given.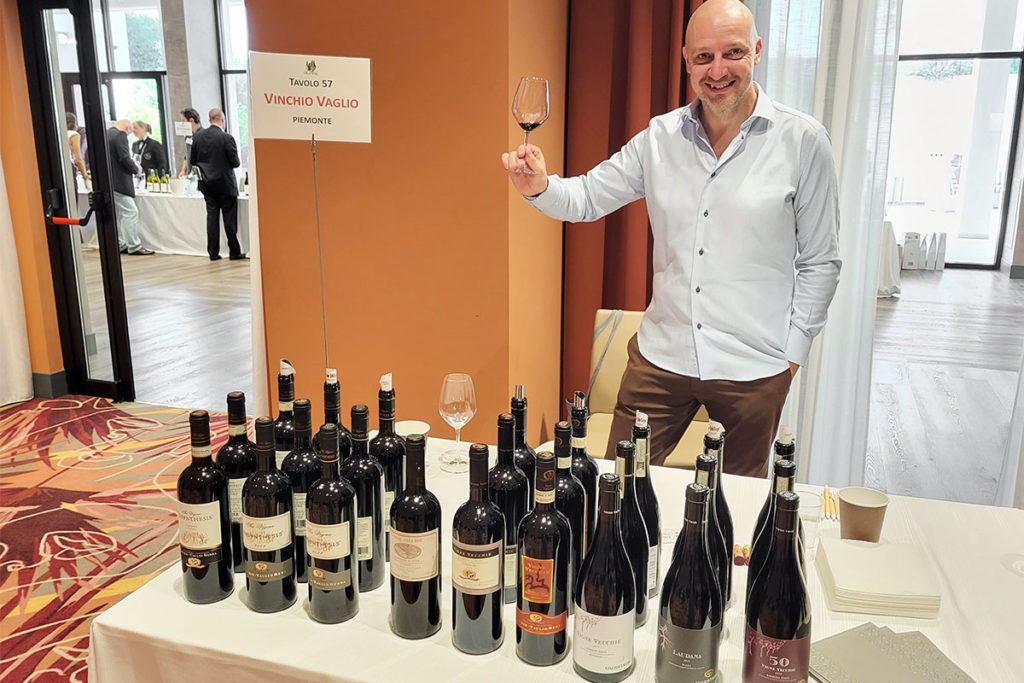 Will you accept the challenge?
And now it's your turn: buy a Barbera from the latest vintage and one from an older vintage and travel through time to understand how wine evolves, refines and completes itself. You don't need to be an expert sommelier to understand the differences, but you can also take this journey during a dinner with friends for a different experience.